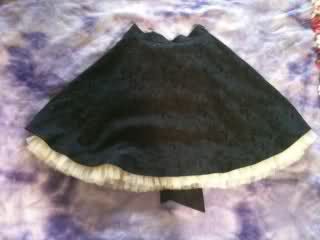 Price: $100 + shipping
Waist: 70 cm max, not stretchy
Worn once by myself, got it second hand from a sale on this Moi Meme Moitie comm for livejournal.
Original sales post (for $160) is
http://moimememoitie.livejournal.com/202426.html
with lj seller
charlottecharm
and me (
elwyn_centauri
) as buyer. Because it has a little damage (a few loose threads on cream as seen in pictures provided in link) from the previous owner the price is reduced.
Prices on this piece is definitely negotiable. I am leaving lolita and desperately need the closet space. I currently reside in NYC but can ship internationally, or if you're in NYC am open to meeting up locally to hand over the merchandise.

If you have further questions about the skirt please let me know I can provide more pictures.

Thanks!